Happy Friday, Everyone! Sorry I haven't posted anything the last few days. It's a busy time of year as many of you know. I have been working on a few projects that I will be sharing with you next week.
Anyway...
I just wanted to remind you about the
Fantabulous Cricut "Deck the Halls"
Crawl
coming up on Monday, Dec. 13th.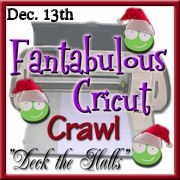 The design team is working hard to being you some fantabulous decorating ideas using your Cricut machine.
Here's a little sneak peek of what I have been working on.
I also wanted to let you know about the
Rockin' New Years Eve Blog Hop
that will be happening on December 30th - 31st. There is a great line up of blogs participating and it is going to be all about celebrating. And there is going to be some blog candy along the way and you don't want to miss out on that.
Thanks for stopping by and as always thank you for all the sweet comments.