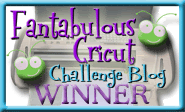 I found out this morning that my submission to the Challenge Me Monday #17 critter challenge over at
Fantabulous Cricket
was picked as a winner! I am so excited!! If you have not participated in this challenge I encourage you to give it a try.Visit their blog to get some inspiration. Here is the link for this week's challenge:
Challenge Me Monday #18
. I'm just about ready with my project for this challenge so stay tuned.
Thank you, everyone, for all your encouraging remarks and comments on my blog. They truly make my day.
Happy scrapping!
Saundra